"Kitnip"
One of my favorite images by Virginia Lee Burton as part of The Folly Cove Designers.
I recently visited my family in Gloucester, MA and went to a new gallery in Lanesville with my mother -
Flatrocks Gallery
. It opened in what once was a new and used bookstore. (I can't find any good images on the web, and their website is currently bare.) They have a lovely outdoor garden space with sculptures and inside there are two rooms - one is the gallery and the other is still an operating bookstore. After looking through the art gallery we went into the bookstore and this
book
caught our attention: "Virginia Lee Burton: A Life in Art", by Barbara Elleman. We spent a good bit of time huddled over it, so my mother purchased it and slipped it into my suitcase without telling me. (Thanks, Mom!)
(Click on the book to flip through it on Google Book Search. Worth a look.)


Virginia Lee Burton wrote and illustrated several books for children: "Mike Mulligan and His Steam Shovel" and "The Little House" possibly being the most well known (full lists of books she wrote and/or illustrated are here).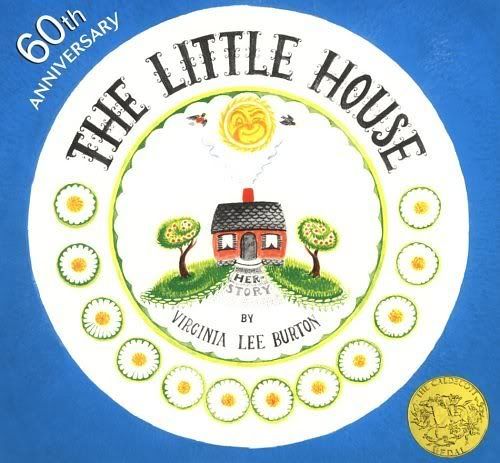 I hadn't known that the person behind these books was from Massachusetts. It turns out that she had lived in Gloucester and was the central figure in the Folly Cove Designers. I had heard of the Folly Cove Designers before and had seen some of the work of a previous member before. The Folly Cove Designers carved wonderful images in linoleum and had quite an operation until Virginia's death in 1968. They printed on fabrics for the home that were sold locally and in some large department stores. More info and images here.
I love the style of the prints made by Folly Cove, and it is obvious that the aesthetic of the group was influenced by Virginia's "Arts and Crafts" style.
And, of course, the book has me thinking even more about uses for our rubber stamps. I'd been thinking lately about making images that fill the entire sheet, so that they can be inked and used much like large linoleum sheets (shown above). This book has me even more inspired to look into that option. Perhaps leaving enough space between individual elements in a sheet so that they could still be cut out and used separately.
Hmmm....

Illustration by Virginia Lee Burton.

Update:
I guess there is quite a revival of interest in VLB and the Folly Cove Designers. Just saw this PDF of an article in Vogue this past May: http://www.virginialeeburton.com/images/VLB_in_Vogue_May08.pdf